Village would not be drawn on whether it had called for the sign's removal. "SeaWorld is opposed to the dissemination of misinformation about its business," a spokesman said, adding the theme park works with "respected animal conservation organisations … World Animal Protection has consistently rejected constructive engagement."
Bad behaviour
Rugby star Israel Folau had a legal victory on Wednesday after seeing off a complaint that his infamous "hell awaits homosexuals" social media comments vilified gay people.
Folau reached a confidential settlement with Rugby Australia last year after it sacked him over the comments for breach of contract.
Step forward Garry Burns, who became a gay rights crusader 30 years ago when three youths threatened to throw him off the cliffs at Sydney's Bondi. He brought a vilification complaint before the NSW Equal Opportunity Tribunal and then the NSW Civil and Administrative Tribunal.
But the serial litigant scored a massive own goal in the process.
In April EOT president Annabelle Bennett declined his complaint after noting Burns had issued a media release boasting he had raised more than $10,000 in a GoFundMe fighting fund. In it he warned Folau: "I'm just like a vicious Alsatian dog. One I gab [sic] hold of the lea. I don't let go until the bone is bare and bloodied – One wavy [way?] or another I will get that remedy from Mr Folau, even if it takes me years in court."
It was hardly in keeping with the confidential nature of complaints to the EOT.
Burns even said that if Bennett dismissed his complaint, he would allege she was "aiding and abetting the unlawful vilification" of the homosexual community.
The matter then went to the Civil and Administrative Tribunal, which referred to Burns' "continuous, inappropriate and threatening sending of emails" to Folau's legal firm DWF. In a fortnight in February, Burns sent 37 emails.
He saw fit to email Attorney-General Christian Porter, quoting Paul Keating. DWF got copied in on that one as well. "[A]s former Prime Minister Paul Keating once said to Federal Opposition Leader Mr John Hewson 'I want to do you slowly mate. There will be no easy execution for you.' Folau can hide behind his high paid lawyers like some limp wrist pansy but he will not dodge Mr Burns …"
But Folau actually did dodge Burns.
Civil and Administrative Tribunal principal member Anne Britton rejected Folau's view that the complaint was "utterly hopeless" and said it was arguable that Folau's comments had the capacity to incite hatred and serious contempt for homosexual people.
But she refused to hear the complaint, saying the "inescapable conclusion" was that one reason Burns complained was to attract donations to pay for unrelated legal proceedings.
And she gave him a serve for his harassing emails. "Given the egregious nature of Mr Burns' conduct it would not be in the interests of justice to permit the complaint to proceed."
Tree change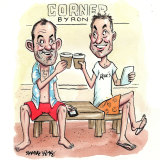 Five years after former Nine boss David Gyngell ditched his job for a seat on the board and a new home by the beach, Byron Bay really is the place to be for the media crowd.
Regional newspaper proprietor Antony Catalano, who owns the boutique Rae's on Wategos hotel, has been in Byron since the start of the pandemic. The father of nine who has splashed out $30 million on a St Kilda penthouse still under construction now says he won't be moving back south until the end of next year – at the earliest.
Now another executive has joined Byron's media clique. Former Ten Network chief executive Paul Anderson, wife Hilary, plus their three children and dog, have become hobby farmers in Pearces Creek, a tiny dot on the map outside nearby Bangalow. The pair paid just over $1.7 million for the 12-hectare property in September and are now firmly in the grand designs phase. Anderson, who prefers cycling and golfing to surfing, says he is in "major farm renovation" mode after buying the pecan farm, but there is no sign of an artisan label yet.
REA Group and Rugby Australian chairman Hamish McLennan has also holidayed in the area with family, but not former Seven West Media boss Tim Worner. "Too crowded" is his verdict on Byron. He prefers the NSW Central Coast.
Start your day informed
Our Morning Edition newsletter is a curated guide to the most important and interesting stories, analysis and insights. Sign up here.
Stephen Brook is CBD columnist for The Age. He is a former features editor and media editor at The Australian, where he wrote the Media Diary column and hosted the Behind The Media podcast. He spent six years in London working for The Guardian.
Samantha is the The Age's CBD columnist. She recently covered Victorian and NSW politics and business for News Corp, and previously worked for the Australian Financial Review.